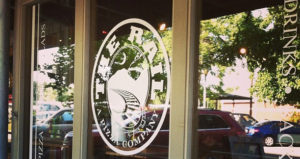 The Rail Pizza Company in Rogers, Arkansas
---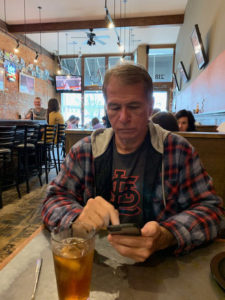 My husband, Mel, and I got out of the house finally Tuesday.  I was truly ready, after a week-long bout with Influenza A and still battling a persistent cough, I enjoyed our outing to our accountants to sign our tax documents and then we decided to have lunch someplace we haven't tried before. We parked in front of a coffee shop and The Rail on South 1st Street near downtown Rogers. I was in my wheelchair and we looked in the door of the coffee shop and realized there was a step down in the front that wouldn't accommodate my wheelchair, so we turned next door and entered The Rail Pizza shop.
The Rail is known for its fresh pizza and also for its Wings and Pork Shanks.  You order to carry out or you can eat in, there are tables and booths and a cool bar area to enjoy beer, wings, and pizza, plus an outdoor patio eating area in the back when the weather's nice.  The atmosphere is casual and friendly.  We enjoyed the decor.
The menu included fresh in-house baked crust that is really good.    Mel and I decided to try the Dumpster Pizza.  It was delicious!  I'm reading in other reviews that the wings, especially the Thai wings are great.  So I'm definitely going to try those when we visit again.
It didn't take us long to get our pizza, but the wait was not so bad.  The Rail is decorated in an interesting fashion, with lots of colorful items to look at.  They have a special wall for cool stickers and many different items for sale.
Comments
I enjoy receiving comments and questions, please leave yours below. -Shirley