Last updated on February 24, 2020
Maybe Your Dog can carry his own weight!
---
Many of us enjoy taking our furry friends with us on trips and walks and it can be great fun.  But what about the dog's water and drinking bowl?  Do you simply add that to your own pack?
There is no reason your dog can't carry his/her own stuff, especially if he is not too small.  For my husband and myself, our dog "Boaz" is plenty big enought to carry his own stuff at 130 pounds.  Bo loves to go walking and hiking with my husband, but he does need to have water and something to drink out of just like my husband does.  Recently Bo went along on a 10 mile hike and we decided that he needed to carry his own things.  My husband jury-rigged a small human waistpack for him to carry across his shoulders but that didn't work out so well – his movements made the pack slide around off his shoulders.  So my husband went shopping to get him a "real" doggie backpack.  Bo is rather large, so he had to go along to try it on.  It just fits and is a little snug but works well without being too tight on him.
So I thought I'd do a little research of doggie backpacks since some of you might be interested in them too for your doggie companion.
As I researched, I found out that they are often called "canine backpacks" and that you should think about them possibily holding the dog's water, drinking cup, muzzle, medications, clickers, towel and treats/food, even a first aid kit.
I found that good high-end dog backpacks should have rugged clasps, buckles, zippers/snaps, rather than cheaply made connectors and hardware and padded straps for comfort.
Interestingly enough I did learn that carrying a doggie pack can actually calm your dog, kinda like a doggie "thunder shirt" or how swaddling does for a baby.
What about the weight of the pack?
While a healthy dog might be able to carry up to 25% of his/her bodyweight, you might consider 10-20% asa more comfortable figure to use.  You certainly want to keep from injuring your pet.  Also, you might consider the weather you will be walking/hiking through.  Carrying much weight in the heat uphill might be too much to ask.  Be sure and consider your dog's comfort and safety – after all, you certainly don't want to be carrying a sick dog back from your walk.
Our Bo weighs 130 pounds, so he should be able to carry 13-15 pounds easily.  After all he has pulled me in my wheelchair around lake Bella Vista, so a backpack will be a breeze for him.
How to Measure your Dog?
Chest (girth): Measure from the top of his spine right behind his shoulders down around the widest area of his rib cage and back to the top.
Here are some estimates for sizing a pack from Ruffwear:
Size
Girth
X-Small

17-22 inches

Small
2

2-27 inches

Medium

27-32 inches

Large/X-large

23-42 inches
In researching, I've found some great dog backpacks to choose from.  Below are some of the better ones, and some doggie bowls that can be portable and put in backpacks.
Here is Boaz wearing his personal doggie backpack.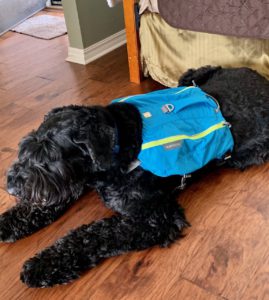 Below is the backpack that we have for Boaz and the collapsible water bowl for him.
Comments
I love to get questions and comemnts from my site visitors, you can leave yours below -Shirley
NOTE:  This post contains affiliate links, which if clicked on and a product purchased, I receive a small commision.