Last updated on May 22, 2020
CBD Oil – What is all the hype about?
In 2018, I began to read and hear about CBD oil from various sources and my first thought was "no way would I be using "weed", I've made it to age 66 without using recreational drugs and no reason to start now.  However, as I kept hearing more and more about certain benefits, I dug deeper and found out that CBD oil is not "weed".  CBD oil has little of the THC (tetrahydrocannabinol) component.  THC is what gets you high and gives you euphoric and intoxicating feelings. CBD oil will not get you "high," because it contains little to no THC.
Cannabinoids are chemicals found in cannibis or marijuani plant and hemp plant.  There are many (over 113 different cannabinoids ) found in cannibis.  Canabidiol (CBD) is a major constituent of the plant (usually up to 40% of the plants extract).
Cannabidiol can be taken into the body in multiple ways, including inhalation of cannabis smoke/vapor, as an aerosol spray into the cheek, and by mouth.
CBD oil is taken from the flowers, stems, leaves or buds (resin glands) of marijuana (cannabis) or taken from hemp. It is commonly thought that CBD taken from marijuana is of better quality and concentration because it contains complementary cannabinoids. The flowers are going to be the most valuable due to their density, creating a full spectrum oil. Full spectrum CBD oil of high quality is often made with only the female flowers.
So CBD oil is not going to make me or you high.  It is not the equivalent of  using "Weed".
CBD is considered by some to have several health benefits, including pain relief, help with epilepsy and help with sleeping problems. CBD has been used in treating cancer patients and much, much more.  NOTE:  FDA does not approve use of CBD oil currently for other than epilepsy treatment.  See FDA's website.  However there are anecdotal stories that CBD oil has been helpful for various physical issues.  I am not a doctor or a scientist so I can only talk about what it seems to have done to benefit myself.
My Experience with CBD oil
I am 66 years old, a type 2 diabetic, an asthmatic, with degenerative discs in my back and I suffer from fibromylgia and sciatic pain. I've been in a wheelchair since the fall of 2014.  I've used extra strength tylenol, and Tramadol for my sciatic pain with little effect – the pain is still there.  My doc will not prescribe narcotic pain meds for a chronic condition so I was basically just having to "suck it up" as far as my pain.  Living with constant pain is not easy and can become very depressing and I found myself having to deal with some depression at times.
So I was looking for something that might help me when I began researching CBD oil products. 
I began using CBD oil drops for my sciatic pain in mid-2018.  I was amazed that after 3 doses (15 drops noon, evening and following morning), my sciatic pain was gone.  I've read that CBD oil has great anti-inflammatory properties and I thought maybe that was what helped me.  Since that day in 2019, I've continued to use CBD oil regularly to keep my sciatic pain at bay.  I do know that whenever I've let myself run out of my CBD oil product, the pain returns full force and then goes away when I start using my CBD oil drops again.
In the beginning I tried several Brands of CBD oil and settled on one brand that seems to work best for me.  That Brand is the CTFO brand.  I would recommend it based on my own experience and in fact, I've become an independent associate to sell the brand online.  You can go to my website  and create a free account and order some for yourself. If you find it helpful, you can even sign up to become an independent associate yourself.
Products
The product I use for m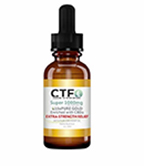 y sciatic pain is the 10XPURE FULL SPECTRUM CBD OIL DROPS.  I started with the 500mg but have tried the 1000mg and 1500mg too.
I've also used the 500MG CBD ULTIMATE DEEP HEALING RELIEF CREAM WITH EMU OIL and it has helped with my spot specific pain also.
I will comment that the Brand is certainly not cheap, but I consider it a good brand and unlike some others, it has helped me manage my pain.
There are many other CTFO products that I have not tried but I've read comments from others who liked them.
You can read more about the CTFO brand products HERE and here are some TESTIMONIALS you can read.
If you are wondering if CBD oil will help you, then give it a try.
Comments
I love to get comments and questions from my site visitors, you can leave yours below.
NOTE:  There are links to products included in this post which if purchased, I receive a small commission.