Last updated on December 18, 2019
Finally – Chronic Lower Back Pain Relief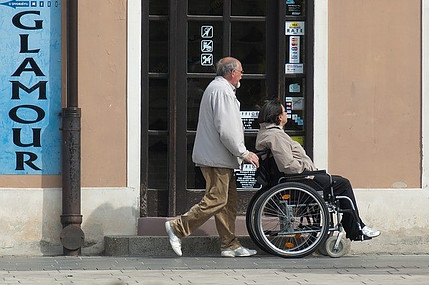 I've lived with chronic pain for years now.  First, the degenerative discs in my low back began giving me pain 30 years ago during my 7th month of pregnancy.  The pain was off and on for years; then I developed fibromyalgia and the flare-ups during the years have been at times severe.  In mylate 50's I developed pain in my hips (the left one especially) and I have lived with sciatic nerve pain from my hip to my knee for over 4 years now.
I have been in a wheelchair most of the day for over 4 years now.  Every now and then I would be able to use a walker for a short distance, but that never lasted.  I've been to doctors and chiropractors, physical therapists and done massage and over the counter pain relievers (docs will not prescribe regular pain meds these days).
I do have a prescription for Tramadol; so I use that and extra strength Tylenol and have for years for slight relief. But the last few years the pain has been very severe at times and moderate the rest of the time.  Especially at night – I have rarely been able to sleep more than a couple of hours at a time.  There was simply no comfortable position.  I would move from bed to my recliner several times during the time and still be exhausted in the morning.  I could not straighten my left leg without severe pain and hardly put any weight on it because of the sciatic nerve pain.
But a couple of weeks ago, this changed.  I've been doing a lot of research on hemp and CBD oils and how to achieve relief from sciatic nerve pain by using them.  So I decided to try this natural method to relieve pain.
I started taking some Hemp Oil drops and I'm happy to say that my severe pain is gone.  I can sleep for several hours now in my bed and I can straighten my left leg all the way out (it was impossible before due to the pain).  I'm getting up and using my walker more often and I'm amazed because
"MY PAIN IS GONE"
I am able to go to my appointments by myself now; my husband doesn't HAVE to go to help me.  Best of all I have periods of absolutely no pain – I never thought I would enjoy that again in my life.  But now I've found how to achieve natural pain relief.  right now I'm sitting at my computer and there is no pain.  How Awesome!
I totally credit the hemp oil and CBD oils I've been using for this amazing relief from my pain.  I truly believe the anti-inflammatory and relaxation effects are responsible.
Best Hemp and CBD Oils
My research shows that the following hemp and CBD oil products have great reviews and have seemingly helped many with their pain and better sleep.  The products can be ordered for wholesale prices by just signing up as a customer and then placing your order.
Check out my personal website to purchase these great CBD products by:
CLICKING HERE to purchase.
Become an Associate like myself
If you find these products work for you, you can join as an associate and sell to your friends and family who are seeking pain relief like myself  by:
CLICKING HERE to sign up.
I can definitely say that finding these oils is a true blessing.  My life is rapidly becoming much better as I can get up and do more of the things I couldn't do before because of the severe pain.  I can stand up and put my dishes and glasses in the cabinets from the dishwasher.  When I get out of my wheelchair and use my cane to get to the car in the garage – the pain is going away.
I can use my walker to go from the car to my chiropractic appointments now and some restaurants where I do not have to walk far.  I'm starting to do some exercises to strengthen my legs again so I can walk more.  These exercises do not hurt anywhere like they did before.
My personal opinion is that these oils are reducing the inflammation in my body significantly.  I can't say for sure but that is one thing they are said to be good for.
Conclusion
If you deal with chronic pain, I highly recommend trying some hemp or CBD oil for your pain and see if it helps.  I'm certainly not a medical professional, so you should check with your doctor first to make sure there are no contra-indications with your current meds or ailments.
Comments
I love to get comments or questions from those who read my posts.  I encourage you to leave yours below and I'll get back to you soon.  – Shirley
NOTE:  This post contains some affiliate links, which if clicked and a product purchased, I receive a small commission.