Last updated on December 18, 2019
Knowing Your Neighbors
---
My husband and I have been visiting Bella Vista since 2001 and we moved here permanently in 2016.  After years of visiting through my timeshare and now living here for the past 2 years, I was well aware that this is an "artist community."  In fact, that was one of the reasons I liked the thought of moving to Bella Vista.  As an artist myself, I take notice of arts events and Facebook groups and posts about the art produced in this community.  I've also visited "The Wishing Gallery" and several of the "Art shows and Fairs" over the years.
This spring, I found out that one of my neighbors is an artist also and I've enjoyed visiting with him and seeing his works.
Who is Bob Sanford?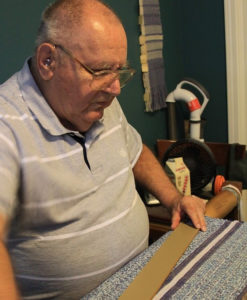 Robert "Bob" Sanford is 84 years old and lives with his wife, Rachel, and his two cats.  He was born in 1934 in Chicago.  He is also one of my neighbors, just a couple of houses down.
I visited with him this week and learned quite a bit I had not known before.
Bob and Rachel have lived in Bella Vista for 23 years, coming from Minneapolis, Minnesota.  Bob is a retired police officer.  He is also an artist who creates some beautiful "rag rugs".  Bob's great, great, great, grandfather built his first loom in 1870 in Sister Bay, Wisconsin.  This began a family tradition of weaving, which has continued up to now.  Bob's mother was a rug weaver herself and taught Bob how to create rag rugs of his own on one of the handmade original family looms built in1930. Bob began weaving while in high school and has been creating rag rugs for over 60 years.
Bob currently weaves with a loom he purchased in 1970.  He weaves as a hobby and because he enjoys it.  It takes him around 8 hours to make one of his rugs. (including prep of cutting materials and sewing together.)  After the weaving is done, strings are attached by hand tying the fringe to the rug.
During the year, he will create about 100 rugs which he sells only once a year at the Bella Vista Arts and Crafts Festival held each fall.  This is the ONLY TIME you can purchase one of these unique hand-made rag rugs.
The Family tradition of weaving rag rugs may end with Bob's generation since none of the younger members of his family and extended family have taken up the art of "WEAVING RAG RUGS."
His Materials
All the materials Bob uses is recycled from what he finds at garage sales, places like Helping Hands and Goodwill. The materials he recycles comes from old sheets, clothes, T-shirts and dated fabric.  The fabrics he used, in the beginning, were 100% cotton but now he uses mostly cotton blends.
His loom allows him to create rugs 24.5-26″ wide and lengths up to 6 or 7 feet.
I learned about Warp and Weft – terms used in the weaving world.  See the definition in Wikipedia.
Each rug has a fringe of around 3 inches in a beige color.  The strings for this are purchased from special merchant suppliers.
There are 2 main products he needs to produce his rugs:
1.  Special string for the fringes
2.  Cotton/cotton-blend fabrics he finds at yard sales and thrift stores.
When creating his rugs, Bob uses his "artist eye" for matching colors and creates the patterns in his head.  Each rug is a unique, one-of-a-kind, creation.
His rugs can be machine washed (on cold cycle) and hung out to dry, but not dried in a machine dryer.
Examples of some of his rag rugs
Here are some images of his rugs.  His kitty "Zephyr" enjoys laying on the rugs and being part of our photo shoot.
Buying a Rag Rug for Yourself
Remember, you can only purchase Bob's unique rungs once a year in Bella Vista, Arkansas at the fall arts festival.  But you can purchase rag rugs online anytime if you like.  Here are some rugs I've found that you can purchase.
| | | | | |
| --- | --- | --- | --- | --- |
| | | | | |
| Bristol Blue Hand Woven Rag Rug, 2 x 3, 100% Cotton | nuLOOM Casual Handmade Braided Cotton Area Rug, 5′ x 8′ | Cotton Hand Woven Multicolor Rug Rag Chindi Handmade Dari Floor Runner Carpet 68X44 Inches | Indian Chindi Rug Stripe Pattern Woven Recycled Cotton Rags Floor Throw Dari 70 X 42 Inches | Recycled Floor Runner Hand Woven Indian Chindi Cotton Rag Rug Throw Mat Dari 70″ X 45″ |
Learning to Weave Rag Rugs Yourself
Even though your great, great, great grandfather didn't start your own family tradition of weaving, you can learn on your own.  Here's some information:
Books on weaving
| | | |
| --- | --- | --- |
| | | |
| Weaving Rag Rugs | The Rag Rug Handbook | Rugs From Rags |
Here are some good Youtube videos on weaving rag rugs:
Comments
I always enjoy getting comments and questions, leave yours below. – Shirley
Note:  This page may contain affiliate links, which when clicked and a product purchased, I receive a small commission.  These commissions help defray the cost of maintaining this website.