Last updated on December 18, 2019

Summer is about the Wicker Basket!
---
Summertime is here in force in the Ozark mountains of northwest Arkansas.  We've had a week of pretty hot days (into the 90's in temperature) and now a couple of cooler days that have been so pleasant.  My husband and I really enjoy sitting on our deck in the evenings.  As soon as we roll out the deck awning and take the box fan out and plug it in, we head to the lawn chairs with a glass of iced tea.  Our "monster" dog "Boaz" joins us.  I with my camera and Mel with his newspaper, we can sit there for a long while listening to the birds and watching them at the many feeders we keep filled around our deck.  We enjoy watching the occasional squirrel too; although Boaz loves to chase them away if they DARE touch HIS DECK.
Our small water fountain gives out a nice little trickling sound as long as Bo doesn't drink the water down too low.  We have a running battle to keep him from drinking out of the "fountain".
This last month, Mel has been practicing his grilling on our deck grill. We usually invite a few neighbors over to share our grilled meal and something to drink.  We've found we can host about 8-10 people max on our deck.  He has mastered hamburgers and hotdogs, steaks, corn on the cob, sweet potatoes, grilled veggies, and most recently spare ribs.  I think he has done a great job (and it certainly gives me a break from cooking inside).
We purchased our grill a few years ago and we are loving it.  It's a Weber and Mel really enjoy cooking with it.
About the Weber grill?
The grill has a 4.5-star rating on Amazon, with 70% of reviewers giving it a 5-star rating
The price is $899
This grill is a Weber 62030001 Genesis II E-410 Liquid Propane, Grill
The Grilling System has (4) stainless steel burners with porcelain enameled flavorizer bars and sports a grease management system which reduces the risk of flare-ups and allows for easy removal of the greases.

There are p

orcelain enameled cast iron cooking grates which give you over 640 square inches of cooking space, which includes a 198 square inch Tuck-Away warming rack overhead.

Battery type : AA

The Infinity Ignition knob, will ignite the gas and start each burner with easily.  My husband loves the flexibility of the knobs and 4 burners to control where the heat is located when he cooks.

On the side are 

Stainless steel  prep workspaces which have hanging storage hooks for your barbecue tools

The size, when assembled, is: Depth-31 inch, Width- 61 inch, Height-61 inch

There is a 10 year, 100 Percent Weber Guarantee
A great cookbook too.
I purchased this cookbook to go with our Weber Grill and we are loving it.  It has instructions on how to grill all kinds of things and lots of receipes are included.
Grill Accessories
Weber 7131 Genesis II Cover

 

Weber 6678 Large Original Grill Basket

 

Weber 6625 Original 2-Piece Stainless Steel Tool Set

 

Weber 6494 12-Inch 3-Sided Grill Brush

 

GrillHogs Sauce Basting Brush Set of Two, Premium Stainless Steel Handles, Dishwasher Safe Heat Resistant Silicone Bristles, Natural Long Lasting BBQ Set
Summertime is Also Great for Guess What?  – Yes, Picnics!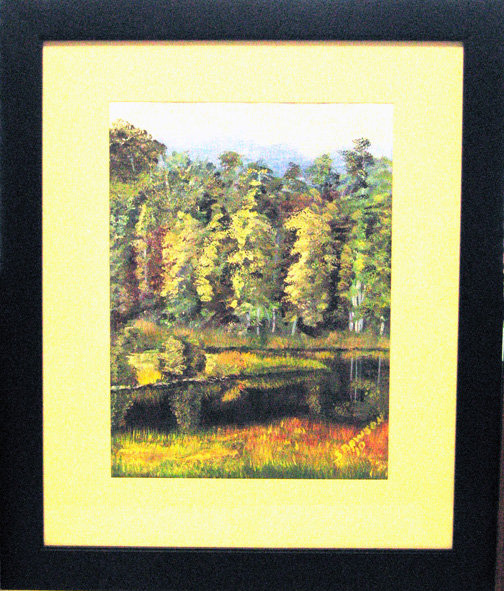 Over the years, we have enjoyed having our own personal picnics with just Mel and I and now with our dog "Boaz" or BO for short.  We started doing this years ago.  One of our first picnic outings had us heading to Petit Jean Mountain in central Arkansas from our previous home in White Hall (in Arkansas's delta region).  We drove around the mountain roads for hours and en we can across a nice lake and set up our blanket and food and enjoyed the view.  I love capturing photos, so I had brought my Canon camera along to take some photographs while we were there.
Later, when I started learning to paint traditionally with acrylics, I painted a scene from one of the photos I took that day.  I named it "View from a Picnic". Here's an image of it later framed and hung in a gallery for sale. That was my first attempt at traditional acrylic painting and I think it turned out ok.
Since that picnic on Petit Jean Mountain, we have been on many other picnics and when we moved to Bella Vista in the Ozark Mountains, we continue to have our occasional picnic.  We have 7 lakes here to choose from, but we typically go to Lake Ann. There is a beautiful view of the lake, dock, a picnic table and a large grassy area to play with our Bo.  The lake has a gorgeous rock wall on the west side near the dock.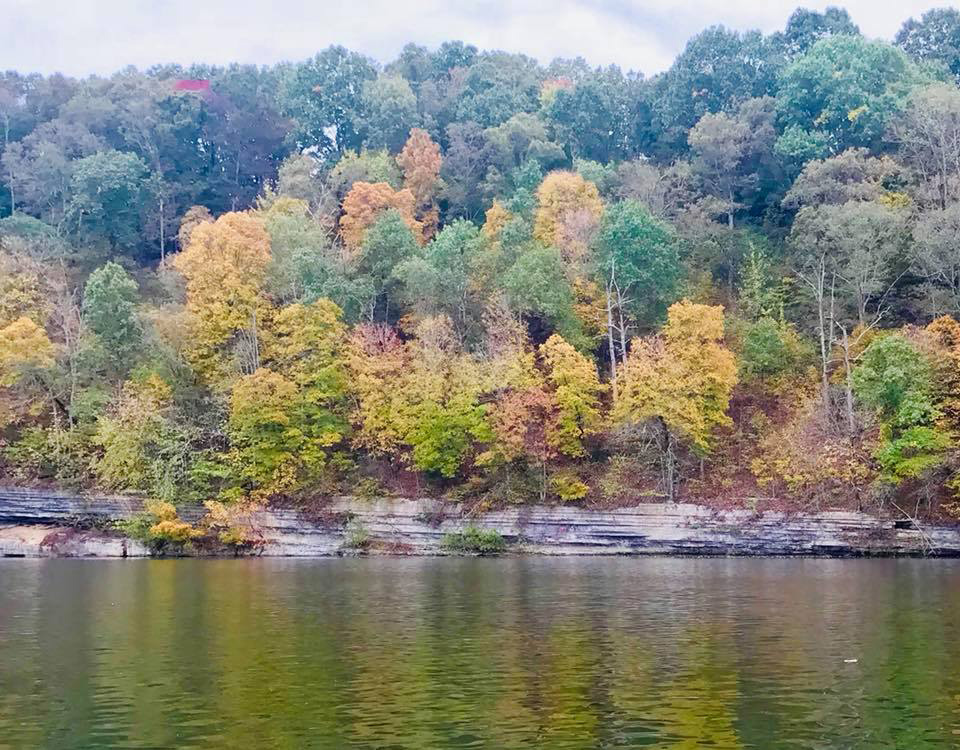 We have taken up kayaking since moving here and we love this lake with that beautiful rock wall.  I take pictures when I'm kayaking also.
The other day when we were packing to go for our picnic, I mentioned to Mel that I wish we still had our old wicker basket.  We had sold it when moving here when downsizing.  We got a little carried away with getting rid of "things" I believe.  But we really do have a much smaller house and storage areas now.  I have become a little more reconciled to a more minimal living style since we have moved here.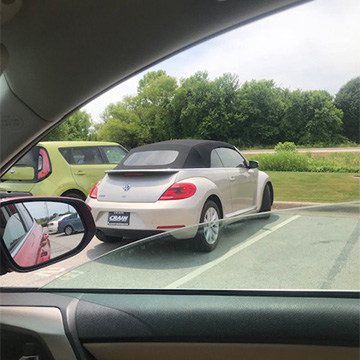 However, I truly would enjoy another wicker picnic basket, so I've been looking at some online.  I'm saving my Amazon gift cards up to purchase a new one for us.  Mel and I will be picking up our "new to us" Volkswagon Beetle Convertible in a few days and I'm planning on some mountain drives and more picnics.
Which Basket to Get?
I'm kinda wanting one of the traditional wicker baskets. With the woven look, cloth lining and split lid on top and folding handle. There are several nice ones to look at.  I am deciding whether to just get just the basket or one with extra stuff, like picnic plates, containers, glasses, etc.
OPTION 1. I found this picknic basket on Amazon that is basically just the basket for $21.52
It has a 3-star rating with  23% of reviewers giving it a 5-star.
Vintiquewise TM QI003081 Gingham Lined Picnic Basket with Folding Handles
Details:
Its small a  12.5:x 7.5x 7.5-inch

Its made of natural woven woodchip

and has a cherry faux leather and clasp
This one is too small for my use but for a snack type picnic, it might work.
OPTION 2.  I found this one for $46.88 on Amazon.
It has a 4.5 start Rating with 72% of reviewers giving it a 5 star.
The "Picnic Time Piccadilly Willow Picnic Basket for Two People", with Plates, Wine Glasses, Cutlery, and Corkscrew – Red/White Plaid liner.
The dimensions are:  16.5 by 11 by 9.3 inches
There are a couple of 8" melamine plates included
Also, there are two 7 oz. acrylic wine glasses, and
Two sets of flatware (fork-knife-spoon) in a cool roll-up wrapper.
There are a couple of matching napkins too.
Its made of willow and weighs 6.61 pounds
There are lots of nice reviews and people seem to like it although some would like better quality plates and glasses made of real glass.
There is a blanket you can order that matches the cloth in the basket  This is pretty nice
The Camco 42803 Picnic Blanket (51″ x 59″, Red/White)
The Cost is $21.59 and the size is 51″ x 59″ and can fold to 3″x8.5″x13″
Its red and white checks so it matches the picnic basket liner.
And has a waterproof backing – great for a picnic.
Ordering both would cost me  $46.88 + $21.41 = $68.29
OPTION 3.  Here's one that already has the blanket included:
Picnic Basket Set for 2 Person Picnic Hamper Set | Double Lid | Beach Collection | Folding Picnic Blanket Ceramic Plates Metal Flatware Wine Glasses S/P Shakers Bottle Opener Green Lining Picnic Set
The cost is $63.45 and the size is 18″L x13.7″W x 16.5H"
This basket includes:
A matching picnic blanket which is 57″x57″ and waterproof
Two Matching Pattern CERAMIC Plates,
Two Stainless Steel Forks-knives-Spoons,
There are two Wine Glasses
Two  matching napkins
Two Stainless Steel Salt and Pepper Shakers,
an Insulated Wine Holder and a Bottle Corkscrew,
You also get a wooden Cheese Knife, Wood Cheese Board
And you get an Insulated Cooler Lunch Box
For myself, I'm liking OPTION 3.   This is the one I'm saving for; I sure hope I can get my new wicker basket soon so I can use it this year.
Comments
I love receiving comments and answers questions.  please leave yours below – Shirley
NOTE:  This post may contain affiliate links, which, when clicked on and a product purchased, I will receive a small commission.  These commissions help defray the cost of maintaining this website.