Last updated on January 27, 2020
Wait!  What are Hiking Poles?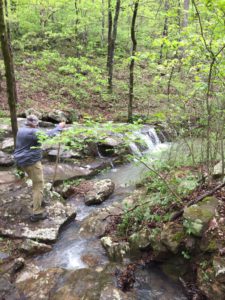 Maybe you have seen the hikers around the trails and paths of Bella Vista and you certainly have seen pictures of hikers climbing hills and going down woodland paths holding poles in each hand.  These are know as Hiking Poles or Trekking Poles or Sticks.  Typically, they are used as a pair.  There are several benefits of using Hiking Poles when you are hiking.  I list a few of them below:
1.  If you are hiking on level ground, the poles will help you maintain good posture keep you stable and enhance the rhythm of your walking.
2.  When climbing, hiking poles/sticks will take a lot of strain off your hamstrings and keep you from falling by giving you two additional points of contact with the ground.  Your arms will also take some of the weight off the knees, feet and ankles.
3.  When navigating downhill, the poles are said to take over 25% off the compression off your knees.
4.  The pole can be used to move obstacles aside, like thorny brushes and poison ivy, test water and snow depth and check for quicksand.
5.  The poles can be used as a weapon also to ward off dangerous animals (both 2 legged and 4 legged).
6.  Carbon fiber or aluminum poles are very light and even if you aren't using them, they are very easy to carry with your pack.
7.  You can lean on the poles to rest while taking a break from hiking with a heavy load.
8.  The poles can be used as tent or shelter poles in an emergency.
Choosing the right hiking poles for you
1.  First, decide whether to use one or two poles.  Generally two poles are best.
2.  The height of the poles should allow for your elbows to have a 90 degree angle when the tips are touching the ground. If you are using the poles to climb up a steep path, shorten the length a little, more as the path gets steeper.  For downhill, you do the opposite, adjust them to be longer.
3.  Decide if you want adjustable poles, foldable ones, very light ones, poles with locks, etc.
4.  Decide what type of hand grip you want your poles to have:  Cork and foam help if you have sweaty hands; rubber is good for use in cold weather – it may cause blisters in hot weather.
Accessories come with most pairs of poles:
The large baskets are for snow, the smaller baskets are for mud, and the "feet" fit over the points for using them on asphal that are longer and have a part that goes up like the back of a running shoe.  Some come with a carry bag.
Some top Hiking Poles:
Black Diamond Trail Pro Shock Pole
Rated 4.5 stars on Amazon (88% of reviewers gave 5-star rating)
Two poles

Ultra-light aluminum shafts

Dual-density grip and 360-degree padded webbing strap

Non-slip foam grip extension

4-stage shock absorbent 

They have a dual locking mechanism for changing the length.
Switchable rubber or carbide tips
26″ when fully collapsed
Cascade Mountain Tech 100% Carbon Fiber Quick Lock Trekking Poles
Rated 4.5 stars on Amazon (72% of reviewers gave 5-star rating)
Black/Red
Price:  $44.99
Two poles
100% carbon fiber, lightweight
Length can be adjusted from down to almost 25-54″
Cork grip to reduce sweaty hands, Eva foam grip available
Great Flip locks rather than twist ones
Bargain at this price
Hiker Hunger 100% Carbon Fiber Trekking Poles – Ultralight & Collapsible with Quick Flip-Lock, Cork Grips, & Tungsten Tips
Rated 4.5 stars on Amazon (87% of reviewers gave 5-star rating)
Color: Black
Price:  $69.99
100% carbon fiber, ultra light
Length adjustable from 24″-54″
Comfortable cork grip plus Eva foam extensions included
Adjustable hand straps
Great customer support
Foxelli Trekking Poles – Collapsible, Lightweight, Shock-Absorbent, Carbon Fiber Hiking, Walking & Running Sticks with Natural Cork Grips, Quick Locks, 4 Season/All Terrain Accessories and Carry Bag
Rated 5 stars on Amazon (88% of reviewers gave 5-star rating)
Color:  Black
Price:  $59.97
Two poles
One size fits all – length can go from 24″-55″
Cork grip
Padded, adjustable straps
There is a carry case included
Ryno Tuff Trekking Poles, Durable 100% Carbon Fiber Hiking Pole With Natural Cork Handles and Extended EVA Grips, Ultralight, Expandable, Collapsible, Foldable – For Hiking, Walking, Skiing – Set of 2
Rated 4.5 stars on Amazon (88% of reviewers gave 5-star rating)
Color: Black
Price:  $29.99 (a bargain)
Includes:
2 collapsible/fold-able walking poles
2 rubber tips to protect the built-in tungsten tips
rubber boots for trekking on pavement
2 mud baskets for trekking on softer ground
2 snow baskets for snowy terrains or skiing
1 carry bag
Great customer support
Conclusion
There are many reasons that you would choose to use hiking poles or sticks to help you stay safer when hiking, expecially in the hills of northwest Arkansas.   There are also a large variety of brand and prices of poles.  You do not have to spend a fortune to acquire your own hiking poles.
Comments
I enjoy receiving questions and comments.  Feel free to leave yours below – Shirley
Note:  This post contains affiliate links which if clicked on and a product purchased, I receive a small commission.