Last updated on December 18, 2019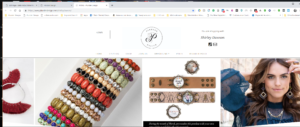 Spring is Coming and I'm loving this wonderful sunny weather we are having
---
FINALLY!  My mood is getting better and I'm not so SAD.
Lately, I've been getting the urge to spring clean, and I've been moving stuff, cleaning behind, under and around things in my house.  I'm even going through my closets and all my clothes.  I'm getting rid of the too worn out items and cleaning and storing the things that fit where I can get to them easily.  I'm finding I had a lot more clothes than I realized, so I don't plan on adding a lot of new clothes, but I have been thinking about dressing up the ones I have with new accessories, like summer sandals, new and colorful earrings and maybe a bracelet or two.  I don't wear a bunch of jewelry normally, just my wedding ring, my cross necklace, and earrings.
This last year, I've been wearing earrings more and more – I even got my ears punched again so I can.  I've found a line of jewelry that is not expensive, but still vintage and elegant that I like to wear.  The brand is Plunder Design and I've been purchasing their unique looking earrings for months now.  I'm finding them easy to wear, colorful and yet very tasteful.  I'm even wearing dangle ones now because they are not so heavy they make my ears sore.
Each month, Plunder has some wonderful specials that I check closely to see if I can buy something new and cool on sale.
Plunder even has a subscription group called "Plunder Posse" where you signup for automatic shipping each month of some awesome items not available elsewhere.
Plunder Posse is a subscription service that delivers 1-3 on-trend pieces to your door each month! These pieces are not found in our normal catalogs have a limited quantity.  These pieces can be a gift to yourself or to others! The Plunder Posse box is only $25 per month including tax and shipping.  Check out some of the monthly posse items recently:  https://www.plunderdesign.com/shirleydawson/plunder-posse/
You can check out my Cool Plunder online shop to see more of these great jewelry items.
Comments
I enjoy reading your comments and getting questions.  Please leave yours below. -Shirley
NOTE: This post contains affiliate links, which, when clicked on and an item purchased, I receive a small commission.