Last updated on April 21, 2020
There's time to look out your window now!
---
Right outside my office window I have a bird feeder and I can see our bluebird house several yards away.  I've captured bluebirds with my camera a while back during spring.  I've seen them looking out of their own door/window the the bluebird house like this.
Putting up and maintaining a bird feeder can give you lots of glimpses of beautiful nature here in the Ozarks.
Putting up and maintaining a bird feeder can give you lots of glimpses of beautiful nature here in the Ozarks.
Bird watching can be a lot of fun for both adults and kids.
Great Bird Feeders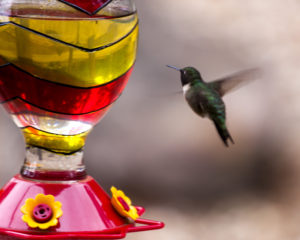 Our single level town home has a good size deck that we often use for "deck parties" with wine and grilled burgers.  Our deck is also surrounded by trees and bird feeders.  We can sit there with the awning drawn over,  in the shade and hear many bird calls and see birds fluttering to and from our feeders.
I capture many of my bird images from inside my house through windows.  We have removed some of our window screens for this purpose.
We have several different bird feeders, ones similar to each of those in the grid below:
Identify Your birds
My husband and I have several bird books with lots of images so we can identify the birds we see.  Here are some great books available on Amazon that are not expensive.
Birding by Ear
You can also learn to identify bird by their calls.  Its called "Birding by Ear".   Here is a nice article about that:
https://www.audubon.org/news/how-start-identifying-birds-their-songs-and-calls
Here is a link to a site where you can learn the sounds of our north american birds: Bird Sounds
My Bird Images from my yard
Here are some images I've captured of birds around our home and deck. ( hope I have each identified correctly, if not, please let me know by commenting).  I use my Canon digital SLR camera with its 70-200 lens for the feeders further away but I have used my iphone camera for some also and I crop and up-size them in Photoshop.
| | | | | |
| --- | --- | --- | --- | --- |
| | | | | |
| Eastern Bluebird | Goldfinch | Hummingbird | Chickadee | House Finch |
| | | | | |
| Tufted Tidmouse | More Gold Finches | Mourning Dove | Red-bellied Woodpeckeer | Ruby throated hummingbird |
| | | | | |
| House Finch | | | | |
Cameras
If you do not have a digital camera with a long lens, this one might be a good starter one for you. (I'm a Canon fan myself)
What do you need to begin bird watching from home?
Time (take time to watch for birds around your home
Get a book or two about bird identification (such as the Audubon Society Books)
Binoculars
You might want a bird watching journal you can keep up with your sightings.
Set up some feeders around your home to attract.  Bird baths will also help attract birds to your yard.
Some great binoculars
Bird Watching Journals
Mel and I have the last one shown in the grid below.
Bird Baths
Resources
Bella Vista Birds (facebook)
Audubon Societies Near Bella Vista (Web)
Comments
I enjoy receiving comments and questions from site visitors. Please leave yours below -shirley
NOTE:  This post contains affiliate links, which if clicked and a product purchases, I receive a small commission.